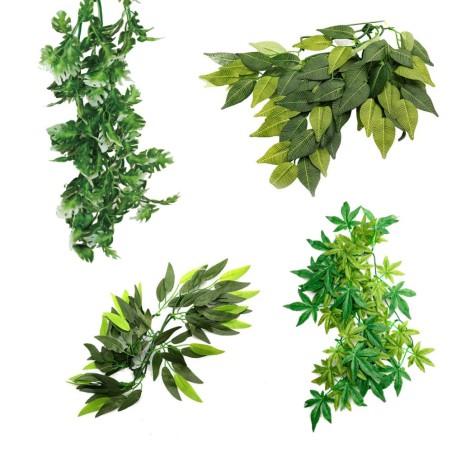  
Reptizoo artificial plants
Artificial plants
Reproductions of four types of tropical leaves easy to install anywhere in the terrarium thanks to the suction cup.
Made with environmentally friendly materials. Safe for any inhabitant of your terrariums.
Artificial plant Heternanthera zosterifolia 30cm
Artificial plant Heternanthera zosterifolia 40cm
Artificial plant Heternanthera zosterifolia 50cm
Artificial plant Banyan Leaves 30cm
Artificial plant Banyan Leaves 40cm
Artificial plant Banyan Leaves 50cm
Artificial plant Iha Leaves 30cm
Artificial plant Iha Leaves 40cm
Artificial plant Iha Leaves 50cm
Artificial plant Monstera Leaf 40cm
Are you looking for a beautiful and useful decoration suitable for your terrarium? Herp Italia, Reptizoo official distributor for Italy has the solution for you!
Reptizoo Artificial Plants are the product for you!
These artificial hanging plants will create a natural environment and provide a hiding place for your reptiles, amphibians or insects.
Highly realistic in design these fake plants have been crafted with great attention to detail, look extremely natural and require no maintenance. They will not wither or fade while remaining vivid and truthful.
They are drooping and bushy and will be the best decoration for your terrarium, paludarium or breeding box.
They are of excellent quality, in fact they are strong, resistant, and the branches do not deform easily.
These climbing plants are very beautiful and elegant and light in weight, they are suitable for hanging on glass or even tied to other decorations in the terrarium.
Wide Application: the various types of leaves that we offer are suitable for various styles of decoration to satisfy your every taste!