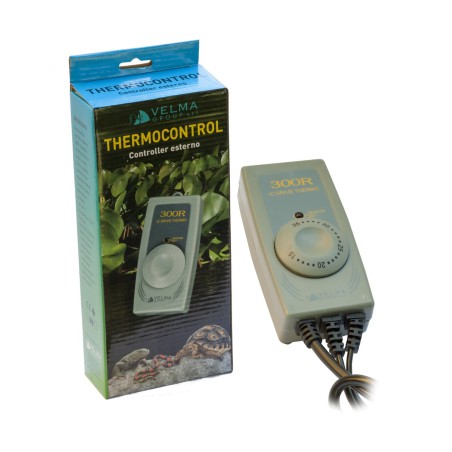  
On/Off Thermostat Thermocontrol 300R
On/off thermostat with probe for controlling the temperature in the aquarium and in the terrarium.
Suitable for the regulation of all heaters except light emitting lamps.
The Thermocontrol 300R is an On / Off thermostat equipped with a probe.
It is possible to connect heating sources such as heat mats, heat strips, heating cables, ceramic lamps, or radiant panels for a maximum load of 500 Watts.
It's not suitable for the regulation of light-emitting bulbs, as the on/off system will easily break the lamp.
The operation led turns on when the heater is working.
Very easy to set: just turn the adjustment knob to the desired temperature, from 18 ° C to 34 ° C.
Technical features:
Sensitivity: +/- 0.5 ° C
Voltage: 220-240V / 60-50Hz
Maximum range: 500W
Data sheet
Gestione massima della potenza

500W

Range

18-34°C

Metodo di regolazione

on/off

Day/Night

no