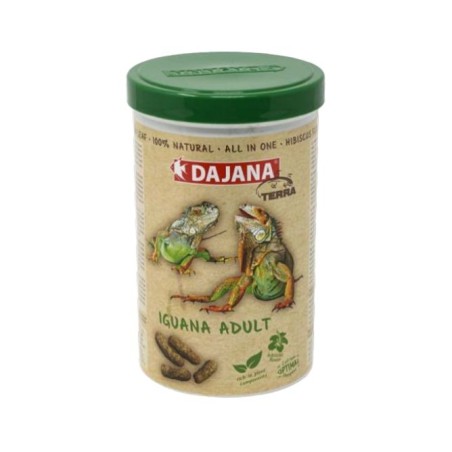  
Sticks adult iguanas
Complete food in pellets for Iguana and other herbivorous reptiles approx. 240 grams
It contains the ideal ratio of calcium and 3:1 for the correct growth of herbivorous reptiles.
The formula contains no artificial colors, flavors or preservatives.
All raw materials for the production of this feed are exclusively of natural origin.
Dajana Iguana Adult - All In One 1000ml/240g
It is a stick food for iguana, produced with pure and balanced vegetable raw materials to meet all the nutritional needs of iguanas and other herbivorous reptiles.
The high-quality herbal content provides a correct supply of nutrients;
The stabilized vitamin C, other vitamins and minerals in its content strengthen the defense system and increase resistance against diseases;
The high fiber ratio helps regulate the intestinal and digestive systems;
For young and developing reptiles, it is recommended to feed them several times a day in the amount they will consume in a few minutes;
For adult reptiles it is recommended to feed them 5-6 times a week in the amount they will consume in a few minutes.
Administration: offer the animal only the quantity it is able to consume during the day without leftovers.
Composition: Alfalfa, Cereals, Dried apple, Sunflower, Wheat germ, Peas, Linseed, Brewer's yeast, Rosemary, Mallow, Dandelion leaves, Calcium carbonate.
Analytical constituents: Proteins 18.9%, Fibers 18%, Oils and Fats 4%, Crude ash 3.5%.