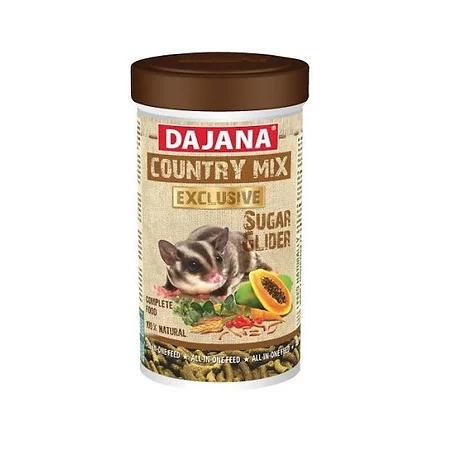  
Sugar Glider Food
Dajana Country Mix Exclusive Sugar Glider
Complete food for Gliders in packs of 150g - 250ml
100% natural
With insects, fruit and vegetables
Thanks to the ratio of calcium and phosphorus, it prevents osteoporosis
Country Mix Exclusive Sugar Glider represents an interesting supplement to the diet of your sugar gliders. It is a complete feed, but we recommend, as always, to make it part of a diet as varied and also made up of fresh foods and insects.
Supply several times a day based on how many specimens you own.
Be careful to introduce the new food gradually, mixing it with the one already in use.
Ingredients: Wheat, soy, insect meal, apple pulp, molasses, carrot, mineral salts, banana, zeolite, brewer's yeast, rosehip, spinach, seaweed, papaya, eucalyptus.
Analytical components: Proteins 25.4%, Fibers 9.7%, Crude oils and fats 3%, Ash 5.4%, Humidity 9%.
Additives: ID672 Vitamin A (IU / kg) 23500, ID671 Vitamin D3 (IU / kg) 1400, Vitamin C (mg / kg) 420, Vitamin E (mg / kg) 100, Beta-glucans (mg / kg) 480.