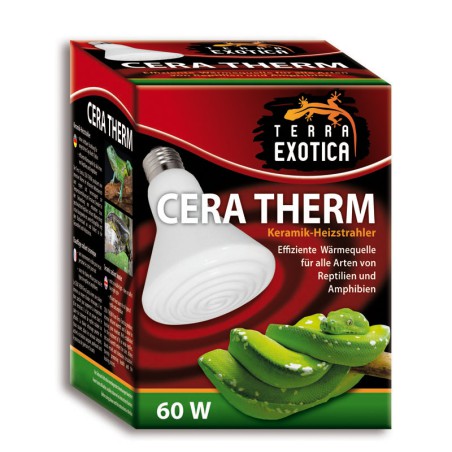  
Ceramic lamp Cera Therm
Perfect radiant heating method
Perfect for heating the air of your reptile terrariums
Used as a night heat point, producing no light
Suitable for reptiles, mammals, tortoises etc.
Ceramic lamps are terrarium heating lamps that emit radiant heat. They simulate the natural heat generated by the sun by increasing the air temperature of the terrarium and, by not emitting light, respect the natural photoperiods of your pet.
They are also suitable for use at night, to warm animals accustomed to receiving heat from above rather than from the ground. They can be used as an additional heat source to heat the air of very large terrariums.
Being lamps that do not emit light, it is possible to use on / off and pulse thermostats to regulate the emitted temperature.
Install the lamp on a ceramic socket that is suitable to withstand the heat and electrical rating indicated.
Keep the lamp at least 3 cm away from the terrarium walls / ceiling.
Protect the animal from the lamp, so that it cannot get burned, with the help of a protective grid or a suitable lamp holder.