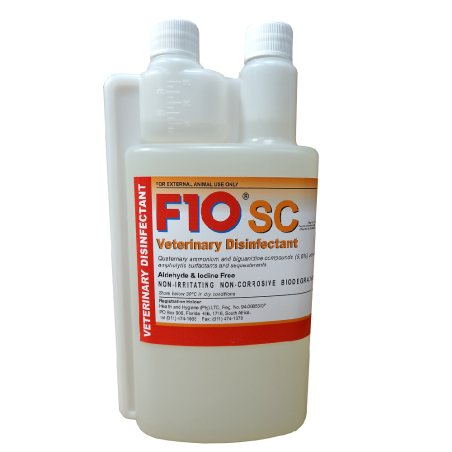  
F10 SC Concentrate Disinfectant
F10 SC - concentrated Disinfectant 
Multipurpose veterinary disinfectant to be diluted 
If used for classic disinfection operations, one 200ml pack is enough to obtain 200 liters of disinfectant!
The disinfectant most used by breeders, veterinarians and zoos and recommended all over the world is finally available on Herp Italia! The F10 SC is the classic F10 disinfectant from which the whole range starts. It is a high-performance product which, due to its biocidal action with low levels of toxicity and irritation, is widely used in the veterinary profession, in large farms, veterinary hospitals, zoos, laboratories and in other various institutions.
The F10SC can be used in numerous applications:
cold sterilization of instruments and equipment including endoscopes, intravenous cataters and endotracheal tubes.
high level effective and safe disinfection of all hard surfaces (such as tables, floors, terrariums, cages) and air spaces.
for the sanitizing rinse of solid food and fruit.
for the cleaning procedures of the accessories (bowls for food and water, bedding ..)
it can be sprayed to eliminate 100% aerial micro-organisms.
The F10SC has also been used successfully in other applications such as nebulization of the respiratory tract, treatment of aspergillosis infections, cleaning of wounds and nasal washes. Non-toxic, non-corrosive and biodegradable.
The basic active ingredients are a unique blend of quaternary ammonium and biguanide compounds, with non-toxic and sequestering ampholytic surfactants that make the final product exceptionally effective and safe even in small concentrations.
How does it work? The main components are "cell poisons" which act on the cell membrane, breaking it and causing the loss of their essential components. The other agents present in F10 aid the penetration of the cell wall / spores. The action of the F10, like that of other disinfectants, is influenced by the presence of dirt: we therefore recommend cleaning before use.
DILUTION INDICATIONS:
The concentrated F10SC must be diluted according to the use to be made of it. The surfaces must already be cleaned and rinsed.
- General environmental disinfection 1: 500 (2 ml / 1 liter of water)
- Strong, high-level disinfection (e.g. quarantine or in the case of pathogens present, sick animals, including fungal spores) dilute 1: 250 (4 ml / 1 liter of water)
- Virus resistant and bacterial spores 1: 100 (10 ml / 1 liter of water)
- Sterilization of instruments / equipment 1: 100 (10 ml / l of water)
It may not be rinsed at the recommended dilutions.
Herp Italia's advice: the F10 is the perfect product for your daily cleaning routine: it can be sprayed and left to dry after cleaning, without rinsing (obviously NOT in bowls, which must always be rinsed!). In the 4ml / l concentration it is perfect for the treatment of quarantine areas and environments in case of pathologies in progress.