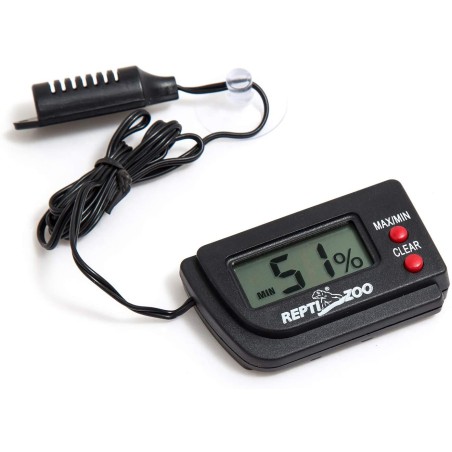  
Digital hygrometer with probe Reptizoo
Hygrometer with probe Reptizoo
Provides an accurate indication of the humidity in the terrarium,
Uses a high quality metal detection probe,
Minimum and maximum value saving function,
simple to use;
Dimensions: 65 x 40 x 13 mm
Are you looking for a suitable hygrometer for your terrarium? Herp Italia, Reptizoo official distributor for Italy has the solution for you!
Reptizoo digital hygrometer with probe is the product for you!
Thanks to the small LCD screen, you can see the humidity value of your terrarium at a glance.
The 1 meter long remote probe allows you to position the sensor inside the terrarium while leaving the screen outside.
It offers the possibility to save the maximum and minimum value.
Uses a coin cell battery, spare included in the box.
The folding arm at the rear allows the unit to stand upright on a flat surface.