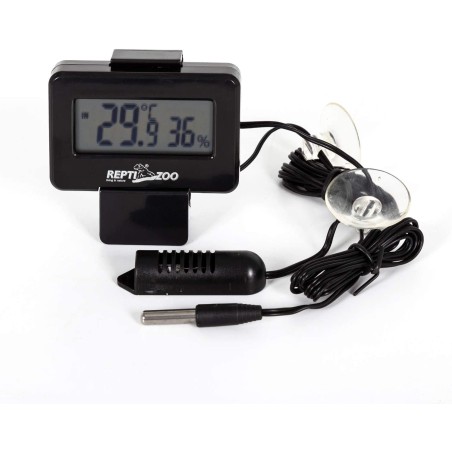  
IN-OUT Thermohygrometer with double probe
Multifunctional digital thermohygrometer
High quality metal detection probes,
Accurate display of temperature and humidity,
Possibility to set the minimum and maximum values of both temperature and humidity,
Indoor and outdoor temperature detection function,
Double temperature and hymidity probe,
Spare battery box,
Ability to change from Celsius TO Fahrenheit.
Power: 1pc 1.5V AG10/LR1130 battery (included 2pcs)
Are you looking for a suitable thermometer and hygrometer for your terrarium? Herp Italia, Reptizoo official distributor for Italy has the solution for you!
Keeping the temperature and the percentage of humidity in an optimal range is essential for the success of the breeding of many animal species.
The Reptizoo thermohygrometer with double probe will allow you to monitor the temperature and humidity of your terrariums, aquaterrariums, paludariums, racks with an accuracy of ± 1 ° C. With the separate probes (about 1m each) you will be able to position the detector of the humidity percentage suspended inside the terrarium or at half height, to detect the actual humidity of the air, while the temperature probe can be positioned for example on the ground, in the hot spot, to keep the latter monitored. Both probes are equipped with comfortable suction cups.
The Reptizoo thermohygrometer is perfect to be housed outside the terrariums of your exotic animals thanks to the practical clamp included or the support that will allow you to place it on any edge, even that of breeding tanks, aquariums and paludariums!
Our advice: when you use the thermometer to measure the temperature of a display case / container heated from below with a heating mat or with a cable, be careful to place the thermometer probe directly in contact with the ground or substrate in correspondence of the heated area: positioning the probe even at just a couple of centimeters above the heated ground results in lower temperatures even by several degrees! This would give you a different reading than the surface your pet actually comes into contact with.
This essential accessory is suitable for all reptiles, amphibians and exotic insects that you care for!