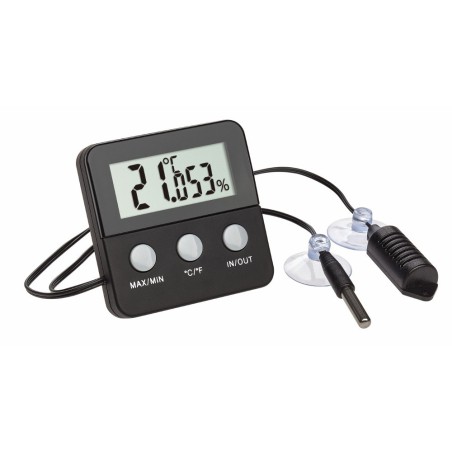  
Thermo-hygrometer IN-OUT double probe Terracheck
Digital Thermo-hygrometer IN/OUT with double probe Terracheck
Shows °C o °F temperature and hymidity percentage.
Double probe for temperature/humidity check (1m each)
Cable sensor for temperature and humidity
Ideal for climate control in terrariums, etc.
Additional display of room temperature
Max.-min. values
Easy mounting with suction cups
It works with 1x 1,5V AAA Battery NOT INCLUDED
Maintaining an optimal temperature and humidity percentage is fundamental for a successful breeding.
Our TFA thermohygrometer with double probe Terracheck will allow you to monitor the temperature and humidity of your terrariums, aquaterrariums, paludariums, racks with an accuracy of ± 1 ° C. With the separate probes (about 1m each) you will be able to position the humidity percentage detector suspended inside the terrarium or at half height, to detect the correct humidity of the air, while the temperature probe can be positioned for example on the ground, in the hot spot, to keep the temperature monitored. Both probes are equipped with comfortable suction cups.
The front keys will allow you to:
- Check the highest and lowest values ​​found
- Change the display between ° C and ° F
- Display temperature and humidity detected at the level of the probes (IN) or room temperature and humidity measured at the level of the thermostat body (OUT)

Detected temperature range -50 ° C / + 70 ° C humidity 20/99%
Resolution 0.1 ° C
Accuracy ± 1 ° C
Dimensions 64 x 24 x 64 mm
Waterproof probes 1m in length
Weight 60 grams
Easy to read digital display
The thermometer is housed in a strong ABS case and incorporates a stand for mounting on a shelf.
Our advice: when using the thermometer to measure the temperature of a case / container heated from below with a heating pad or a cable, be careful to place the thermometer probe directly in contact with the ground or the substrate in correspondence of the heated zone: the positioning of the probe even only a couple of centimeters in height compared to the heated ground brings lower temperatures even in different degrees! You would thus have a different reading from that of the surface with which your animal actually comes into contact.