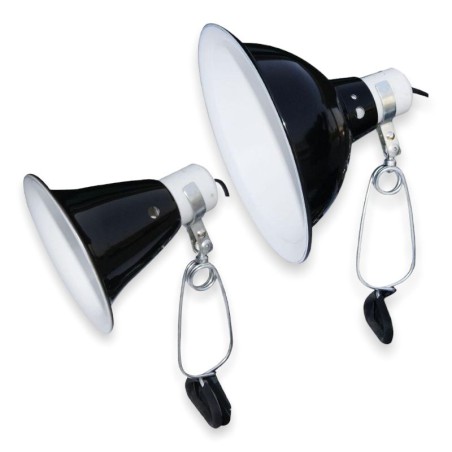  
Clamp Lamp Holder Reptizoo
Ceramic lampholder with reflector and clamp
Attack E27
Clamp INCLUDED
Length of the power cable 170cm
Includes on / off switch
Are you looking for a suitable lamp holder for your terrarium? Herp Italia, Reptizoo official distributor for Italy has the solution for you!
Are you wondering if you can use this lamp holder for a ceramic lamp? CERTAINLY! This lamp holder is not only suitable for ceramic lamps (white or black) it is also perfect for both white and red light or mercury vapor spot lamps, but also for simple compact UVB lamps. The E27 ceramic attachment guarantees high resistance and with the help of the ceramic-coated bell the heat will be conveyed downwards, with minimum waste.
Can I use this lamp holder inside and outside the terrarium?
Certain! To use it externally to a chameleon, or a terrarium with a mesh lid, the bell reflector will help you to convey heat without dispersion. You can decide to use it hanging from the comfortable suspension support of the Reptizoo lamp holders or simply placing it on metal air vents or terrarium lids (pay attention to the heat produced!).
The Reptizoo lamp holders are therefore perfect to be housed outside the terrariums of your exotic animals, but with precautions on dimensions, protections and distances you can also use it internally. Thanks to the practical clamp included in the package you can fix it on the edge of breeding tanks, aquariums and paludariums!
Is this lamp holder suitable for the terrarium of my Pogona vitticeps?
Yes of course! In fact, you can use it to house the compact UVB lamps or SPOT lamps of a Pogona vitticeps, a Mercury vapor of tortoises such as the Geochelone sulcata or use it for the basking lamp of your chameleon, being able to hang the lamp holder even outside your network terrarium. .
You will also be able to enjoy the benefits of the ceramic lamp holder in your bioactive terrariums: UVA rays will not only benefit your cold-blooded friends, but also the cultivation of delicate terrarium and non-terrarium plants.