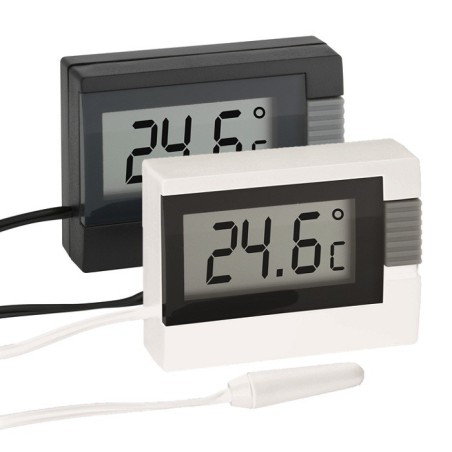  
IN-OUT Thermometer with probe
Digital IN/OUT Thermometer TFA with probe
Can be used inside and outside
Shows temperature in °C 
Available in black or white


The maintenance of an optimal temperature and its control are fundamental for the success in the breeding of many animal species.
Our TFA thermometer IN/OUT with probe will allow you to monitor the temperatures of your terrarium, aquaterrarium, paludarium, rack with an accuracy of ± 1 ° C. By moving the front selector switch to IN or to OUT, you can see the temperature measured at the probe level (IN) or the room temperature detected by the thermostat body (OUT).


Range detected by the probe (indoor) -10 ° C / + 60 ° C
Range detected by the thermostat body (outdoor) -40 ° C / + 70 ° C
Resolution 0.1 ° C
Accuracy ± 1 ° C
Dimensions 54 x 16 (30) x 39 mm
Waterproof probe with 2.5 meter PVC cable
Weight 38 grams
Easy to read digital display

The thermometer is housed in a strong ABS case and incorporates a stand for mounting on a shelf.

Our advice: when using the thermometer to measure the temperature of a terrarium / container heated from below with a heating pad or a cable, be careful to place the thermometer probe directly in contact with the ground or the substrate in correspondence of the heated zone: the positioning of the probe even only a couple of centimeters in height compared to the heated ground brings lower temperatures even in different degrees! You would thus have a different reading from that of the surface with which your animal actually comes into contact.