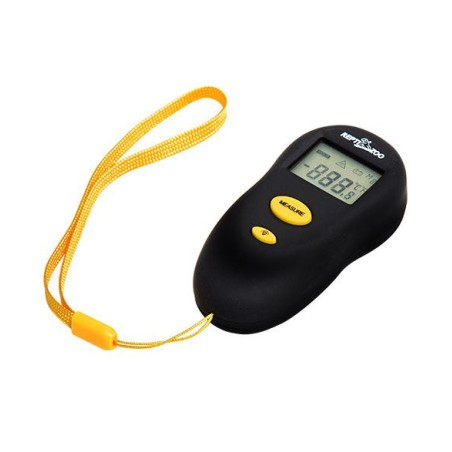  
Infrared thermometer Reptizoo
Infrared thermometer
Measurement range: -50 ° C to 260 ° C
Resolution: 0.1 ° C
Measurement time: 0.85sec
Dimensions: 95x45x28mm
Power supply: 2x AAA batteries (included)
Are you looking for a thermometer to always keep the temperatures in your terrariums under control? Herp Italia, Reptizoo official distributor for Italy has the solution for you! The practical and handy Reptizoo infrared thermometer.
Why are terrarium temperature measurements so important? Animals have certain adaptability and the temperature in the terrarium must be as varied as possible. The breeder should monitor the temperature in each hiding place, corner, basking point etc.
The thermometer uses infrared waves to measure the temperature from a distance of 2-13 cm. With an accuracy of 0.1 degrees Celsius, it will measure the temperature in the deepest hiding place, on the ground, on roots and other elements and places your friends like to climb, relax or sleep.
Why is this thermometer better than the traditional one? Performs measurement immediately. This means that pointing the thermometer head in a different direction / at a different surface, it will immediately give you the measurement result.When measuring from a distance, you don't need to place the probe or the whole thermometer at the selected point and you don't need to wait for the result, as in the case of a traditional thermometer.
Using the Reptizoo infrared thermometer we do not stress the animal.
The thermometer will automatically turn off after 15 minutes when you stop using it.