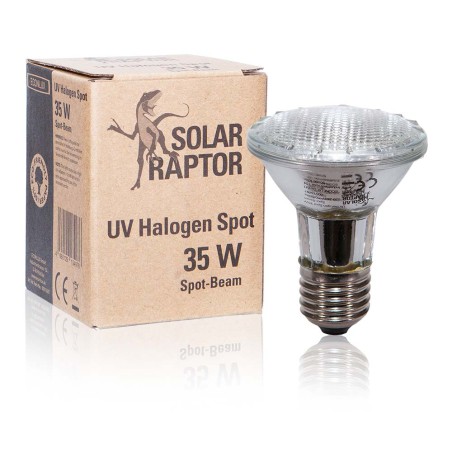  
Solar Raptor Halogen Spot
Solar Raptor Halogen Spot
E27
Greater heat emissions than traditional bulbs!
Energy saving, longer life and resistance
Halogen lamps represent an evolution of the old incandescent lamps. For many diurnal reptiles, they are an excellent source of light and heat for the basking spots.
They emit yellow-red light but do not emit UVB rays, so the terrarium set-up can be completed by UVB fluorescent lamps to cover the spectrum of light and rays essential for the correct breeding of the reptiles.
We recommend the use of spot lamps for a daily duration limited to the natural solar hours. If the terrarium temperature has to be kept higher than the ambient one, it's possible to use a ceramic lamp - not bright - for the moments when the spots are turned off.
We recommend isolating the lamp with an adequate grid so that it cannot be reached by the animal and the use of ceramic lamp holders suitable for lamps that reach high temperatures.
The emitted temperature can be adjusted using a dimmer thermostat, which will help keep the temperature of the basking point always constant, avoiding waste of electricity.