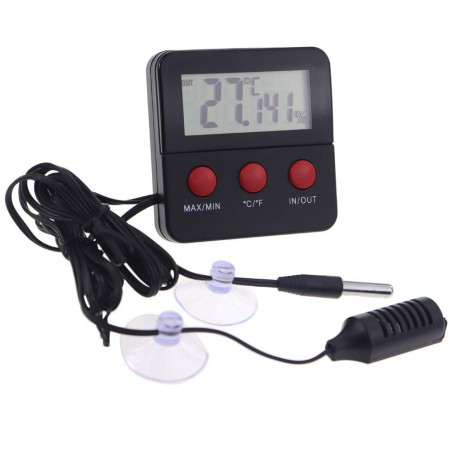  
IN-OUT thermohygrometer double probe Reptizoo
Digital thermohygrometer
Dimensions:
6cm x 6cm x 1cm
Temperature probe: 4cm x 0.5cm
Moisture probe: 4.5cm x 1.5cm x 1cm
Cable length: 90 cm
Are you looking for a thermohygrometer suitable for your terrarium? Herp Italia, Reptizoo official distributor for Italy has the solution for you!
Digital IN / OUT thermohygrometer with double probe Reptizoo is the product for you!
It is a device that constantly monitors the temperature and humidity and saves it thanks to the built-in memory. The system stores the indications of maximum and minimum humidity and temperature.
How often does the station measure? Measurements are performed every 10 seconds.
How long is the system memory? The device never erases the data, only the user can erase the memory at will.
Keys:
- The C / F button alternates between degrees centigrade and degrees Fahrenheit.
- The MAX / MIN button will show the maximum or minimum temperature of the remote probe.
- The IN / OUT button will allow you to view humidity / temperature in the terrarium (IN) or to read external humidity / temperature in the device (OUT)
Each probe has a suction cup for fixing to the glass.
The meter has a folding arm so that it can stand on a flat surface, but it is also equipped with a magnet if you have the possibility to place it on a metal surface.
Data sheet
Range

-10° + 70°

Range dell'Umidità

20% - 99%

Batterie

1 AAA