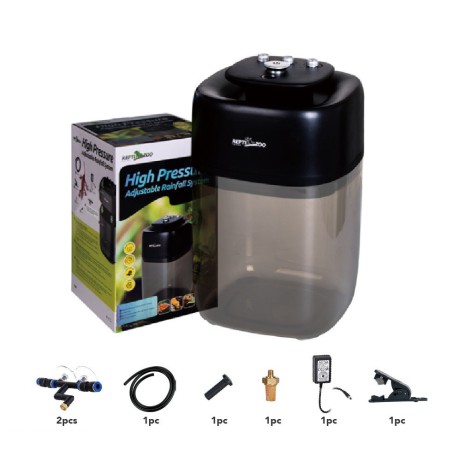  
Rainfall System 10l high pressure 2 nozzle nebulizer Reptizoo
PROFESSIONAL MISTING SYSTEM - RAINFALL REPTIZOO
Compact but roomy,
23.5 x 23.5 x 40 cm,
Self-contained water tank easy to install and use, 10 liters,
Includes 2 spray heads,
Imitate the conditions of the natural environment and regularly spray water,
Spray timing controller,
Unique shock abatement design will provide a relatively quiet working environment.
Technical data:
Input: 100-240V-50 / 60Hz
Input voltage: 12VDC
Product size: 235x235x397mm
Pressure inside the tube: 30psi, Max. 50psi
Open Flow: Min.0.9L / M, Max.1.4L / M
Workflow (with two spray nozzles): 0.102L / M
Working noise: <55dB
Maximum number of spray nozzles that can be connected: 8 pieces
Are you looking for a Nebulizer suitable for your terrarium? Herp Italia, Reptizoo official distributor for Italy has the solution for you!
Reptizoo 10l high pressure sprayer 2 nozzles Rainfall System is the product for you!
Here are 5 good reasons to choose it:
It simulates the rains for a pluvial terrarium, excellent in the boxes for the reproduction of reptiles and amphibians as it regulates the temperature of the breeding environment!
The sprayer can adjust the spray flow to meet the needs of the animals.
With an autonomous 10-liter water tank (easy to install and use) you will guarantee a long-lasting autonomy.
The unique shock abatement design will bring you a quiet working environment.
Thanks to the waterproof surface, you can fill with water directly from the top of the sprayer!