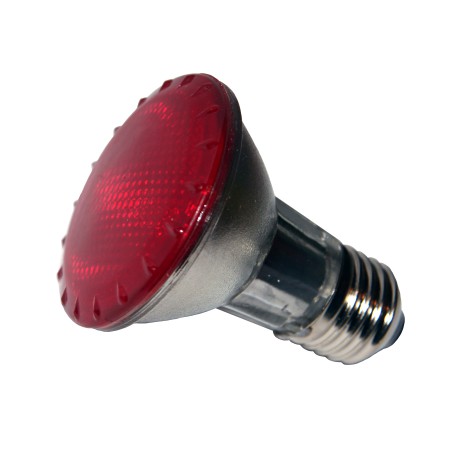  
Red light halogen spot lamp InfraRep
Halogen spot lamp with red light MaggieRep InfraRep
Perfect for warming animals in convalescence
Can also be used for chicks and other nestlings
Double heat output compared to classic spot bulbs
The Infra Rep RED LIGHT halogen lamp emits heat and is used as a heating source, especially at night, given the slightest annoyance caused by the red light. It can be used in terrariums or paludariums, both for reptiles and for birds or mammals.
The built-in reflector allows you to direct the heat in the required direction.
To regulate the temperature and avoid wasting electricity, we recommend the purchase of a Dimming thermostat that will allow you to have constant temperatures.
It is necessary to use a ceramic lamp holder or in any case suitable for housing lamps that reach high temperatures.We recommend the insulation of the lamp with an adequate grid so that it cannot be reached by the terrarium host and the use of lamp holders in ceramic suitable for housing lamps that reach high temperatures